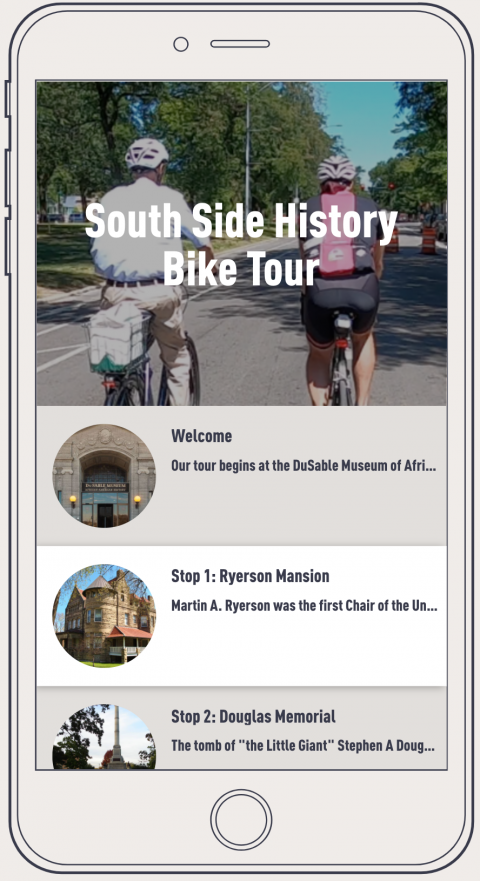 For over 20 years, UChicago students, staff, and community members have been learning the history of some of UChicago's neighboring communities on their bicycles, guided by notoriously avid bikers College Dean John W Boyer (author of The University of Chicago:  A History) and Professor John Mark Hansen (Charles L. Hutchinson Distinguished Service Professor in the Department of Political Science, and author of The City in a Garden: A Guide to the History of Hyde Park and Kenwood). This 20-mile self-guided tour reproduces this annual event, as our guides take us on deep dives into the stories of key figures and significant places across the South and Near West Sides.
Although this tour is available to desktop/virtual participants, we strongly encourage its completion as intended -- on a bicycle, using the FREE Vamonde app (available on both Apple and Android devices) to provide guidance along the way. Each stop includes a video presentation, filmed in September 2020, in which Dean Boyer and/or Professor Hansen reflects on the significance of the stop and the historic figures associated with it.  Note:  because of difficulty with our recorded audio at several stops, we have prepared a complete transcript of all the guides' remarks and included it as part of each post.  Captioning of each video is also underway!  At the end of the transcription of the guides' remarks, you'll find biking directions to the next stop (including a Google map), and some recommended sites to see "along the way" courtesy of Professor Hansen.  The tour begins at the DuSable Museum of African-American History at 740 E 56th Place (directly across Cottage Grove Ave from campus in Washington Park), and continues northwest through Kenwood, Douglas, Bronzeville, the South Loop, the near West Side, Back of the Yards, Bridgeport, and then back to Bronzeville before ending in Hyde Park.
Special thanks to Dean Boyer and Professor Hansen, who kindly cleared their schedules to spend over six hours biking around the South Side and talking about Chicago history with Chicago Studies!  (It was really fun.)  This tour was produced by Chris Skrable and Akwe McDaniels on behalf of Chicago Studies during early Fall 2020. The tour and its content are available either in the Vamonde app (available in your app store) or via this link (using your favorite web browser). 
NOTE: The Vamonde app has been deprecated by Chicago Studies and while archived content is still available, new tour content will be found exclusively on our website.