The College annually welcomes student submissions and faculty/departmental nominations for the Chicago Studies Undergraduate Research Prize, which is awarded for the outstanding BA thesis or capstone project from that academic year that focuses on Chicago or considers Chicago in comparison to other urban areas.
The Chicago Studies Undergraduate Research Prize recognizes the breadth of high-quality, original research that undergraduates produce each year in BA thesis colloquia and seminars.  To be accepted for consideration, submissions must be:
based upon original research
accepted as a component of an undergraduate degree program (including minors and College-sponsored certificates such as the Chicago Studies Certificate)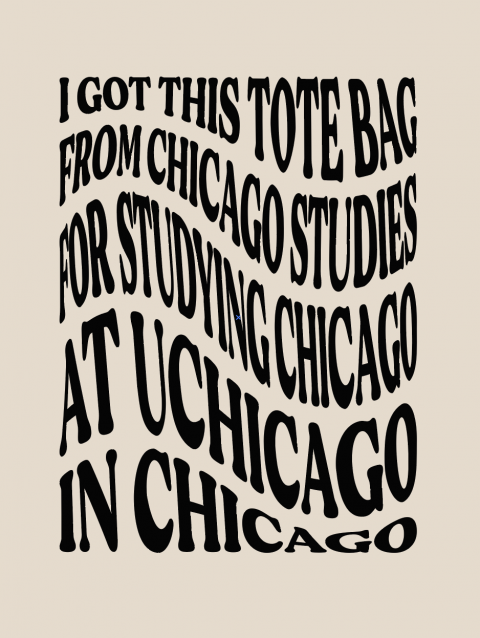 Students from all academic disciplines in the College are eligible to submit qualifying theses/projects for review by our faculty committee.  Students who submit Chicago-focused projects also receive our signature "I Studied Chicago..." tote bag -- see image!  Students who submit Chicago-focused BAs/capstones are encouraged to consider whether their work may also fulfill requirements for the College's Certificate in Chicago Studies; interested students should schedule an appointment to discuss the Certificate with Chicago Studies' Executive Director.
Thesis advisors and undergraduate programs/departments are also encouraged to nominate exceptional theses for the committee's review, using the same form/process. Faculty/staff nominations need not include a copy of the paper(s) nominated, and may come either from advisors or from departmental offices. (Nominators will not receive a free tote bag, sorry.)
The recipient of the Prize receives a cash award of $1000 and automatic acceptance for publication in that year's Chicago Studies Annual.  The winner of the 2023 Chicago Studies research prize was Isadora Kron for her CEGU/Public Policy BA, "A Tale of Two Rivers:  Zoning Policy Conflict and the Production of Public Space on the Chicago River."  Read Isadora's prize-winning paper here!